As your Sheriff, I promised to Reform, Rebuild, and Restore the Los Angeles County Sheriff's Department.  As part of this commitment, I have implemented a body-worn camera program as a means to ensure we perform our duties in a manner that provides equal protection of all persons in our communities and transparency.  Body-worn cameras provide the opportunity to record interactions between law enforcement and the public.  They also add a new measure in achieving fair and impartial treatment of persons who become involved in the criminal justice system.  Body-worn cameras will provide increased opportunity to review our performance following critical incidents, reduce force and complaints, reduce allegations of misconduct, showcase exemplary work, and provide additional evidence in criminal matters.
Sincerely,
ALEX VILLANUEVA, SHERIFF
The History of Body-Worn Cameras in the Los Angeles County Sheriff's Department
The purpose of the Los Angeles County Sheriff Department's (Department) body-worn camera program is to establish responsibilities and procedures for the use and deployment of the Department issued body-worn camera (BWC) equipment, including the Digital Evidence Management Systems (DEMS).  This page will provide public information on the history of the BWC program plan, the body-worn camera testing process and development, and an implementation plan.  The Department anticipates this plan may change as the program evolves through funding, procurement, implementation, and sustainment; nonetheless, the implementation of the program is one of Sheriff Villanueva's top priorities.
IMPLEMENTATION PLAN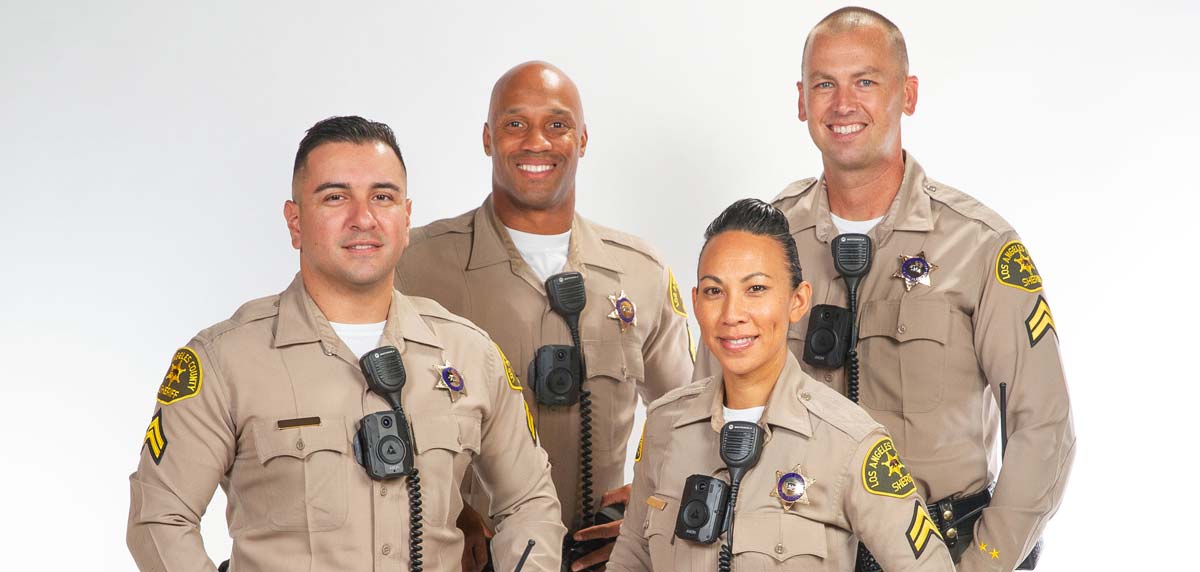 The Department, International Association of Chiefs of Police (IACP), Internal Services Department (ISD), and the Chief Executive Office (CEO) collaborated to develop an Implementation Plan (Plan) that entailed the significant undertaking to equip 5,248 deputies and security officers operating out of 58 patrol stations and sub-stations, 84 County facilities, and nine community colleges. The Plan provided a model timetable, subject to adjustments, that detailed tasks, milestones, and budgets required to systematically operationalize the body-worn camera program.
The current Implementation Plan is comprised of the following categories:
BWC Central Operations($1.8 million one time, with $6.7 million ongoing cost) — Personnel for the Body Worn Camera Unit (BWCU) is staffed with 26 employees and are in the process of training.  Office space has been identified and a lease agreement is being negotiated.
Facility Infrastructure and Network (cost $7.4 million, one-time, with $0.4 million ongoing cost) — The first five stations are completed (Century, Lakewood, West Hollywood, Lancaster and Industry). Currently, 10 stations and supporting units are in the process of facility infrastructure improvements for this fiscal year (FY 20/21).
Equipment Procurement (cost $7.8 million, one-time cost: BWCs, smart phones, computers) — Vendor RFP has been negotiated and a five year contract with Axon was signed. Implementation of cameras to the first five stations will be distributed within 60 days, starting October 1, 2020.
Patrol Operations($3.5 million, one-time cost, with $7.0 million ongoing cost) — The BWCU developed an eight hour curriculum regarding the use of BWC equipment.
The Sheriff's body-worn camera implementation plan was phased over three fiscal years.  The Board set aside funding for the one-time expenses with a nominal allowance for contingencies.
Implementation commenced immediately with staffing the centralized Body Worn Camera Unit and facility preparation. Barring any unforeseen circumstances, the actual deployment of devices to patrol operations is scheduled to take approximately 18 months; whereby, the budget and the device deployment will begin.
Actual ongoing costs are scheduled to incrementally increase with each fiscal year as body-worn camera operations expand department wide. Based upon the Sheriff's proposal, ongoing funds were allocated for the first two fiscal years. An adjustment of the existing ongoing funding allocation may be needed in FY 2021-22, which will be the final year of implementation. Ongoing costs for the body-worn camera device and software subscription will be determined by the RFP and could have a significant impact on the overall budget. The CEO will monitor the body worn camera budget during the implementation period and make budget adjustment recommendations as needed.
BWC equipment will be deployed to five patrol stations: Century, Lakewood, Industry, West Hollywood, and Lancaster.  These stations were chosen by a combination of benefiting from reduced risk and geographic benefits to the Department.
The additional patrol stations and Department bureaus have been determined in order based on a risk assessment, facility infrastructure readiness, and Department needs.  The risk factors evaluated were the number of calls for service/observations, total arrests, total use of force incidents, number of shootings, total vehicle pursuits and number of complaints.