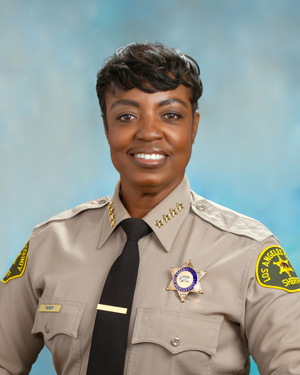 In 1994, Undersheriff Tardy graduated from the Academy and began her LASD career at the Sybil Brand Institute for Women, where she served as a line deputy and training officer before transferring to Temple Station in 1999. There, Tardy worked patrol as well as special assignments. In 2001, she promoted to a Gang Investigator and transferred to Operation Safe Streets Bureau, at Compton Station (CPT).
In 2006, Tardy promoted to Sergeant and remained at CPT, serving as a field Supervisor, Detective Bureau Sergeant and Operations Sergeant. She promoted to the rank of Lieutenant in 2011 and transferred to Men's Central Jail for two years before transferring to Carson Station. There she served as a Watch Commander as well as the Detective Lieutenant and Operations Lieutenant.
In 2015, Tardy transferred to Headquarters as an Executive Aide for Central Patrol Division, where she served for one year until she promoted to Captain of South Los Angeles Station (SLA). She served as the Unit Commander at SLA until her promotion to Commander in January 2019. Almost exactly two years later, Tardy promoted again to the rank of Chief of Central Patrol Division.
Throughout her career, Tardy has been actively involved in the communities she's served. She has helped to organize a West Athens Peace March to address violence in the community, assisted with the organization of a Community Partnership Group within Central Patrol Division, and helped develop Crisis Intervention Worker protocol for LASD. She has also participated in multiple Walk for Life marches in South Los Angeles, contributed to the E-pal program at an elementary school, and worked with Southwest College to establish the first-ever Internship program, which includes SLA as well as CPT and Century Stations. Undersheriff Tardy has also served on the Commander Management Task Force to address violence within the jails and is responsible for attending recruitment events within Central Patrol Division's jurisdiction.
Tardy received her bachelor's degree from California State University- San Bernardino. She has been on the Board of Trustees for the Black Peace Officers Association since 2011 and is a member of Alpha Kappa Alpha Sorority, Inc. She has one son who plays basketball for Bethesda Christian University. In her off-duty time, she enjoys spending time with family, playing basketball and volleyball, doing home-improvement projects, mentoring, and doing community service.