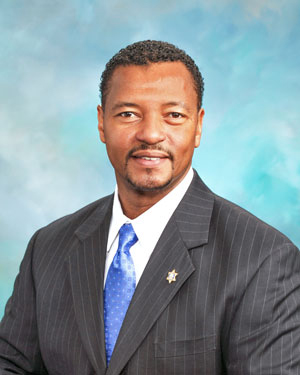 The highest-ranking civilian member of the Sheriff's Department, Conrad Meredith has served Los Angeles County for over 35 years, 22 of which have been with LASD.
Meredith came to the Department in 1999 as an Administrative Services Manager III, serving in multiple capacities, including the Budget Services, Special Accounts, and Position Control units of the Financial Programs Bureau. He quickly worked his way to the top of the Bureau, promoting to Assistant Director in 2004 and to Director of Bureau Operations in 2005, which is the civilian equivalent of a sworn Captain.
In 2013, Meredith promoted to the rank of Assistant Division Director of the Administrative Services Division (ASD). In this role, he was the second-in-command overseeing multiple bureaus, including Financial Programs, Fiscal Administration, Contract Law, Personnel, Psychological Services, and the Bureau of Labor Relations and Compliance.
It wasn't long before his hard work and expertise paid off once again. In 2017, Meredith promoted to his current position as Division Director of ASD, which is equivalent in rank to a sworn Chief. He is the first African American male to hold this title and is currently the highest-ranking civilian member of the Department, in charge of an annual operating budget of roughly $3.5 billion.
Meredith is a native of Southern California, having attended both high school (Loyola High School) and college locally. He has a Bachelor of Science degree in Accounting from Loyola Marymount University and a Master of Business Administration degree from the University of Southern California. He's a member of several professional organizations, including the California State Sheriff's Association Financial Managers Forum, the Major Cities Chiefs of Police Financial Managers Committee, the L.A. County Administrative Deputies Network, the LA County Employee Benefits Administration Committee, and the Black Peace Officers Association. Active in his community, Meredith is also a former youth athletic coach.
Meredith is married and has two adult children. In his spare time, he enjoys spending quality time with family, traveling, outdoor activities, and sports. Commenting on his career and life in general, Meredith believes in the power of positive thinking.